Sélectionnez un domaine ci-dessus pour le découvrir
---
Château La Fleur Plaisance
Séverine Erésué
> Download the Château's PDF
www.facebook.com/lafleurplaisance/
Our story of Chateau La Fleur Plaisance begins with the meeting of two wine enthusiasts. Stephane grew up at
Chateau La Fleur Plaisance which has been in his family for seven generations. I am not the daughter of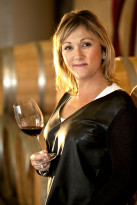 winegrowers  but I have had a love of wine from a very young age. Like Stephane, I decided that my passion would become my job and joined him in the adventure of Chateau La Fleur Plaisance. Located between Pomerol and Saint- Emilion, the geographical position on Montagne Saint-Emilion is a major asset: an exceptional geographical location "PARSAC", creator of great wine!
Chateau La Fleur Plaisance extends over 12 hectares with benefits of a prestigious terroir; Parsac has a strong identity. We age wines with fairly powerful structures, easily recognizable. Chateau La Fleur Plaisance is a wine of « terroir » whose age of the vines and quality of the clay- limestone soil allow this wine to give its typicity, structure and quality of tannins. It is a beautiful representation of a « Montagne Saint-Emilion ».
COLOR: Ruby tint, deep
NOSE: Intense with fruity notes of vine peaches and a hind of dry fig. MOUTH: The wine is ample on the palate, pleasant and crunchy with a nice aromatic finish of red fruits and currant.
AOC : Montagne Saint-Emilion
Area: 12 hectares with HVE certification
Terroir: Clay and limestone
Grape varieties: 80% Merlot, 20% Cabernet Sauvignon
Age of vines: an average of 55 years
Vineyard management: Traditional
Vinification: traditional in thermoregulated concrete vats
Aging: In concrete vats
Yearly production: 30,000 bottles