Sélectionnez un domaine ci-dessus pour le découvrir
---
Château Lescaneaut
Malika Faytout-Boueix
> Download the Château's PDF
www.chateau-lescaneaut.com
Hi my name is Malika and I represent the 6th generation of our families winegrowing. I have been attached to our estate since I was a little "wild child" but as I grew older and more mature I developed a determination and passion found in the values of the Alienor to succeed.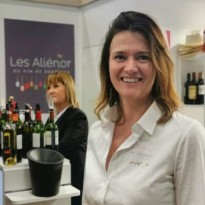 I age Lescaneaut wines for the sake of authenticity and naturalness. Certified organic since 2009, I have also been applying biodynamic principles at the estate since the end of 2020 to enhance my terroir and closely support the cycle of my vines.
The wines of Castillon-Cotes de Bordeaux are gourmet and pleasant tasting wines. The uniqueness of Chateau Lescaneaut is that we have two types of complementary terroir, Clay on Limestone on our slopes and loamy-gravelly soils around the Chateau that overlooks the Dordogne River. Our Red wines are fine and elegant , with a beautiful freshness. This ensures them to blend and enhance the cooking of the « terroir » or more sophisticated cuisine. The aromas of red and black fruits mingle with the subtle woody notes. On the palate, the attack is supple with always a fine and delicate structure. "Our wine is Sun in a bottle". open a Lescaneaut and you will feel a ray of sunshine".
AOC : Castillon-Côtes de Bordeaux
Area : 8.80 Hectares
Terroirs: Clay, Limestone and Gravel
Grape varieties: : 75% Merlot
15% Cabernet Sauvignon
10% Cabernet Franc
Age of vines : 40 ans
Vineyard management: certificated Organic
Harvest : Manual and mechanics
Vinification: Natural fermentation in temperature-controlled concrete vats followed by maceration for 3 to 4 weeks Soft extraction of color and tannins
Ageing: Stainless steel or cement vats and 12 months in barrels
Yearly production: 35,000 btles