Sélectionnez un domaine ci-dessus pour le découvrir
---
Château Maison-Neuve
Alexia Eymas
> Download the Château's PDF
www.chateau-maisonneuve.com
Hello I am Alexia Eymas and I represent the 4th generation of women wine producers at Château Maison-Neuve It began with my great grand mother, then passed to my grand mother and then my mother refined our processes a little more,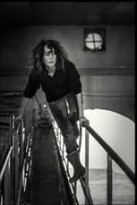 now I am running the vineyard enhancing it by adding my personal touches. After studying sociology, journalism and politics, I chose to return to the natural values of the land by favoring my adopted region of Aquitaine. My studies at ENITA in Bordeaux along with my apprenticeship at a property in Margaux for wine making then worked in a cooperative cellar to understand the multitude of terroirs that surround us.
My education and experience has allowed me to create my range of wines that bring new commercial opportunities. My focus is to bring out the best in what our terroir offers us by adapting it to the climatology to produce wines with a unique character for each vintage.
The cuvée Tradition is purple in color in its youth with aromas of fresh fruit. It stands out for its complexity and finesse on the palate, all in a toasted flavour. Ideal to match white and red meats, cheeses and gourmet dishes.
AOC : Blaye-Côtes de Bordeaux
Superficie : 42 hectares
Terroir : Argilo-calcaire
Cépages pour le vin "Aliénor"
87% Merlot / 10 % Cabernet Sauvignon / 3% Malbec
Age des Vignes : 32 ans en moyenne Conduite du vignoble : Traditionnelle Vendanges : Mécaniques
Vinification : Extraction-pigeage 10 jours/Cuvaison 40 jours
Elevage : En barriques et en cuves souterraines
Production moyenne : 200 000 bouteilles